How I'm Using My Supercomputer to Help Cure the Coronavirus — And You Can Too!
How to Lend Spare Computing Space to Help Cure the Coronavirus
I have tried to stay out of talking about the virus for a while. It doesn't relate the subject matter of this site, and there's so much content on it already that it's the last thing people want to hear about nowadays. However, I have found something that does relate to the subject matter of the site, and I have decided to write about it.
Quick Backstory
Some long-term readers of this site may remember that I have made a personal supercomputer out of spare parts a while back. It's what I run this website on. If you're interested in reading more about it, or you want to make your supercomputer, or you don't even know what a supercomputer is, read about in our article: The Poor Man's Guide to Making a Supercomputer.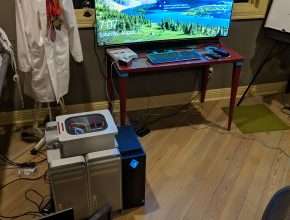 What This Is
So I'm going to start by saying you don't need to have a supercomputer to do this. All you need is a little extra processing power. You can do anything from using an old computer that you don't use anymore, to dedicating part of your more powerful computer to it. Or you can go out and make your supercomputer as I have. Seriously, read the article on it: The Poor Man's Guide to Making a Supercomputer.
Here's how this works: The University of Washington created this project. They don't have enough computing space on their own, so they have opened it up to the community. To do it, they have used the same software as [email protected]
[email protected] is a project where people get datasets that are sent to their computers, and their computers process the data and send it back to the SETI servers. (For those who don't know, SETI is the Search for Extraterrestrial Intelligence. Meaning they are trying to find aliens.) Anybody can do this.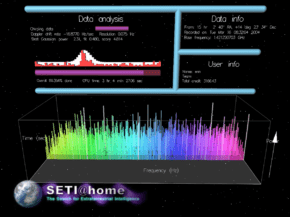 They are using the same software as [email protected] However, the datasets that they send are a bit different. This project is called [email protected] They are attempting to find a protein that can counteract the effects of the coronavirus, using weird geometry, which is hard to explain. They send potential proteins out to your computer, and your computer calculates whether that protein would be able to counteract the virus.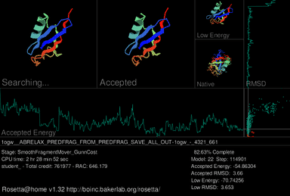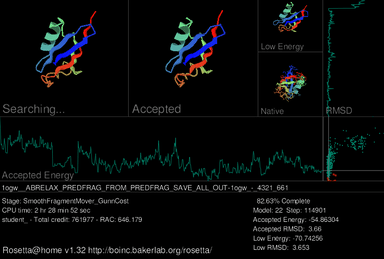 A Quick Note
I think it goes to show that you don't have to do this. There are obvious security risks in this. You're permitting scientists to gain access to your computer so that they may run programs on this. I'm in no way telling you you have to do this. Also, if your favorite blogger jumps off of a cliff, don't jump off the cliff with him. If you think this is a cliff, don't jump off of it.
Tutorial
I will be doing a tutorial for Windows, Mac, and Linux. I will not be including a Chromebook tutorial for this one, as Chromebooks are very underpowered. However, if you want to do this on your Chromebook, just follow the Linux tutorial, but do it with Chrome Linux or Crouton. I have not tried this on Chromebook, but I would be interested in hearing about it in the comment section if it works.
Windows
Windows is pretty simple. Go to the following website: https://boinc.berkeley.edu/download.php. Then, go to the link, depending on whether your computer is 32 or 64 bit. You don't need VirtualBox.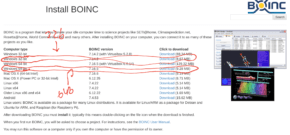 Once you have done that, go through the installer. It should be easy enough. Now that it's installed, go ahead and run the program. It will communicate with the server. When you need to select what project, go down to [email protected] Then, your computer will begin computing. It will then ask you to register for an account. Go ahead and register. Once you have done that, you're done! It will compute potential proteins to cure the virus.
Mac
Mac is pretty similar. Go to the same website as Windows: https://boinc.berkeley.edu/download.php. Now, download for Mac. Unless you're using a very old Mac, download Mac OS X (64-bit Intel). Then, the installation is quite similar. Install it as you usually would with a Mac App. Then, run the Application and click "Add Project." Select [email protected] Then press "Next" and create an Account. You're done, and your computer will begin computing potential cures!
Linux
There are several ways to do Linux, depending on whether you have access to graphics or not. I will assume you do not have access to graphics. With a computer with graphics, you will want to create an account here: https://boinc.bakerlab.org/rosetta/create_account_form.php. Enter all of the information. Don't worry about the link at the top. I will show you how to install everything.

Now that you have registered, it is time for you to install everything. Perform the following commands:
sudo apt install boinc-client
boinccmd --lookup_account http://boinc.bakerlab.org/rosetta/ [EMAIL] [PASSWORD]
The following command will look up your account and give you an account key. Copy that key and paste it into the following command:
boinccmd --project_attach http://boinc.bakerlab.org/rosetta/ [ACCOUNT KEY]
This will begin processing the information. Now you're all set to go! Hopefully, we can find a cure!