Best Game-Changing Minecraft Plugins
Best Game-Changing Bukkit or Spigot Plugins
A while back, we did an article on the best plugins for Spigot servers. On purpose, we didn't do anything that could change the game too much because we wanted the plugins to be applicable to just about every type of server. However, in this article, we will be talking about plugins that change the game completely in ways that many would see as better. If you want to read the first article, go ahead and read it: Some Plugins that Every Minecraft Server Needs.
1) mcMMO
McMMO definitely takes the cake when you are talking about plugins that keep people interested in the server. Not only does it add cool powerups when you get to a certain level, but it also keeps people interested in the game, even after the ender dragon is defeated. This is important if you want your server to last longer than about a month.
This is because of competition between players. There are categories for just about everything you do in the game. When you do something in the game, you level up that category. When you level up in one category, that will push towards a higher power level. The higher the power level, the more of a "pro" you are in the game. If you want to check out mcMMO, go to https://mcmmo.org.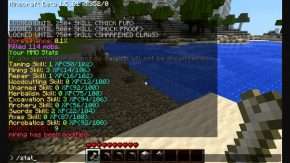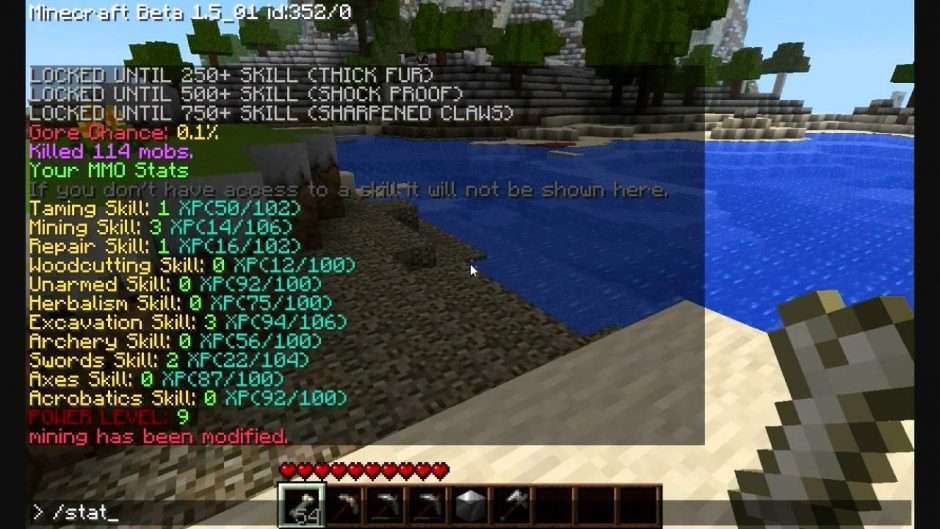 2) VeinMiner
This is a pretty simple one, but your players will love it. VeinMiner is a plugin that enables your players to sneak, and then mine huge veins of ores. This enables your players to skip past some of the annoying things in the game, which your players will thank you for. Check VeinMiner out at https://www.spigotmc.org/resources/veinminer.12038/.
3) ProtocolLib
ProtocolLib is a bit different from the others on this list, in that it doesn't actually add any features. This plugin is a library that allows other plugins to control the protocol of the Minecraft system. This enables many plugins to have mod-style features. If you want to check out ProtocolLib, go to https://www.spigotmc.org/resources/protocollib.1997/.

4) ViaVersion
ViaVersion is an incredible plugin that should have been on the first article, but wasn't, so we're putting this one on here. The plugin enables your Minecraft server to be accessible on multiple versions. For example, if you have a 1.15.2 server (like mine, as of now), you can enable users from every version from 1.9-1.15.2 with ViaVersion-Abstraction + ViaBackwards-Abstraction. There are several different ViaVersion packages available. Just use this chart for what you can do: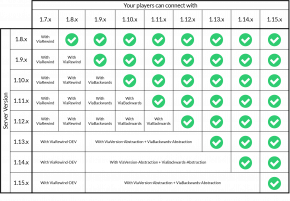 ViaVersion is an incredible plugin. Because at the time of writing, OptiFine for 1.15 isn't available, we use ViaVersion for the people on my server who have to or prefer to use OptiFine with 1.14. You can even see future blocks, they just look a little bit strange. For example, 1.15 bees look like flying pufferfish on 1.14 clients. You can check out ViaVersion here: https://www.spigotmc.org/resources/viaversion.19254/.
5) OldCombatMechanics
Somebody put your hands in the air if you like the changes to combat in the 1.9 updates. Okay… nobody? Just about everybody hates the 1.9 combat update changes. Luckily, there is a plugin just for that. However, make sure your players know that when they right-click with a sword and a shield appears, that is normal and is there to simulate 1.8 blocking. You can disable that in the configuration if it is too strange. Check out OldCombatMechanics here: https://www.spigotmc.org/resources/oldcombatmechanics-disable-1-9-hit-cooldown.19510/.